NCAA tournament: A former coach, neighbors, and 11 degrees of Big East
NCAA tournament kicks off Tuesday night with a pair of play-in games. Once we get to Thursday, the NCAA tournament really gets cooking.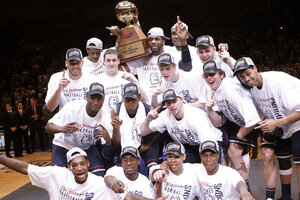 Frank Franklin II/AP
When you look at the upcoming NCAA tournament, the Big East Conference dominates the brackets.
Ten teams from the 32 year-old league were at-large selections to the tourney field Sunday, after the University of Connecticut earned the automatic bid by winning the conference's post-season tournament Saturday night in New York.
Pittsburgh is the only number one tournament seed out of the Big East group and could potentially get to the Final Four in Houston, coming out of the Southeast Region. UConn, by virtue of winning five games in five nights to earn the Big East tournament title, might be on a post-season push or could be too exhausted against Bucknell Thursday.
As for neighbors, Southwest number four seed Louisville, say hello to Morehead State, the region's 13th seed. Back in the Denny Crum days at Louisville, these Kentucky schools used to play each other most every year. The Cardinals, under Rick Pitino, have moved on to the Big East and more of a regional non-conference schedule. Morehead State won the Ohio Valley Conference tournament title to qualify for the 'Big Dance.'
---