My favorite NCAA tournament upsets – and near upsets
There's been much debate ever since the NCAA expanded the field of the men's Division 1 Basketball Tournament to 64 teams in 1985. This, paired with the NCAA's decision (also that year) to introduce the shot clock, has helped make it possible for the mid-major and smaller conferences to better compete with the power conferences.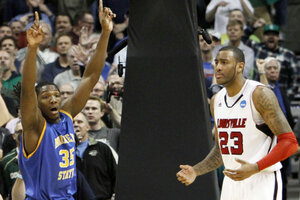 Rick Wilking/Reuters
I've been watching college basketball fairly consistently since the late 90s and wanted to include some outstanding games I've seen along the way. I'm also including two games I saw, featuring 16 seeds against 1 seeds that were very nearly upsets and ones that got me off my seat to cheer for the little guy.
Though a 16 has never beaten a 1, in my opinion, these opening-round games are important to the tournament for that very reason. Everyone seems to agree that one day this will happen, and when it does, there will be only more validation in having widened the tournament field to now include 68 teams.
So here are my top ten in chronological order:
1. Coppin State (15) over South Carolina (2), 1997
2. Princeton (13) over UCLA (4), 1997
3. Valparaiso (13) over Mississippi (4), 1998
4. Weber State (15) over North Carolina (2), 1999
5. Hampton (15) over Iowa State (2), 2001
---