NCAA Tournament: Sweet 16 coaches have paid their basketball dues
Reaching this point in the NCAA tournament represents a major achievement in careers that began modestly, even for Coach K.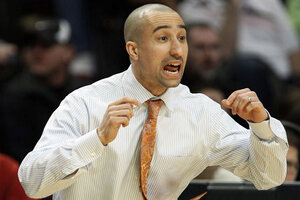 Jeff Haynes/Reuters
What will be mostly remembered about the current March Madness, as with any edition of the men's NCAA tournament, will be the players and the plays, not the "suits." But coaches in their Brooks Brothers threads and the extra antiperspirant obviously play a huge role in getting their teams to the Sweet 16.
To think otherwise is to ignore how highly their contributions are valued by their employers. Consider, for a moment, that Tennessee, which just fired Bruce Pearl because of mounting NCAA-related troubles, reportedly will receive severance worth $948,728 in salary and benefits. That hints at what the school was willing to pay a coach who could take the Vols to the NCAA tournament in each of his six seasons. So you can only imagine what Duke's squeaky clean Mike Krzyzewski must make as the winner of four national championships, including last season's.
As glittering as Coach K's situation may be now, however, he has paid his dues – as have all the other Sweet 16 coaches, to varying degrees. For no one starts out at the top. And many began either as high school coaches or lowly college graduate assistants.
---