NCAA tournament Sweet 16: Who's complaining about VCU now?
NCAA tournament Sweet 16 features Virginia Commonwealth taking on Florida State Friday night. Now that the Rams have won three straight tourney games and reached the NCAA tournament Sweet 16, VCU should have to answer to no one.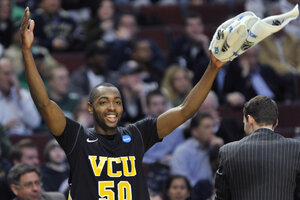 Jim Prisching/AP
On Selection Sunday, the college basketball community had a thing or two to say about a certain team placed in this year's NCAA Tournament bracket. And nobody gave Virginia Commonwealth University any credit.
Much like UAB, who lost to Clemson by a large deficit in its 'First Four' game, VCU was attacked all around for being included in this year's Madness. Only wins against UCLA and Old Dominion really stuck out on the Rams' schedule and further losses to the same Old Dominion team seemed to shake those flimsy foundations.
But then, the Rams began to play. Suddenly, critics and doubters alike were left dumbfounded or humbled, maybe even a combination of the two.
VCU was left off most, if not all, lists of Cinderella-story potentials. While Belmont was taking most of the glory for that plotline — until the Bruins lost their first tournament game to Wisconsin — the Rams were playing hard in their First Four game against USC.
---