NCAA Final Four: Can VCU dance? Yes, they can.
Virginia Commonwealth University (VCU) makes its NCAA Final Four debut after a thorough drubbing of top seed Kansas Sunday. The VCU Rams will be joined in Houston by Kentucky, Connecticut, and Butler.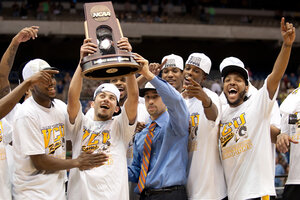 Scott K. Brown/VCU/AP
Ever since the NCAA instituted the three-point field goal in 1986, it has allowed the "Davids" across the college basketball landscape to slay many a top-seeded "Goliath."
Dr. Edward Steitz, the late progenitor of the three pointer, said it best. "It accomplished everything the rules committee wanted. The dunk is no longer the home run of basketball; the 3-point shot is," Dr. Steitz told the New York Times.
The NCAA tournament's lone remaining No. 1 seed, Kansas, was buried by multiple home runs on Sunday by Virginia Commonwealth, the improbable 11th seed, in the Southwest Region final, 71-61.
The VCU Rams hit 12 three-pointers in the contest; the Jayhawks sunk just two, out of 21 attempted. KU was also done in on the free-throw line, missing 13 of 28 charity-stripe attempts. In the end, VCU controlled the flow of the game long enough to pull off perhaps the greatest upset in the history of the NCAA tournament.
---