NCAA Final Four: 2011 unlike any other year
The NCAA Final Four this year will feature a unique first. Yes, UConn and Kentucky are there, but Butler makes a return visit and has company in the form of VCU.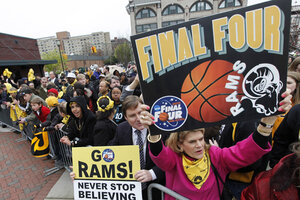 Steve Helber/AP
The month of March never fails to bring the unexpected. But the madness that normally translates into a few upsets and a handful of thrilling buzzer beaters quickly turned into what few could have predicted: this year's Final Four.
In a year when top analysts and the President of the United States were predicting a sweep by the top four picks, not a single one of the Dance's major contenders managed to make it to the Final Four.
For the first time in the history of the NCAA Tournament, the Final Four does not contain a No. 1 or No. 2 seed. In fact, it contains third, fourth, eighth and, yes, even an eleventh-seeded team.
The 2011 National Championship will be awarded to the last team standing in an unprecedented and unconventional group of title-seekers — Butler, Virginia Commonwealth, Connecticut or Kentucky.
BUTLER
Just one year ago, Butler was everyone's favorite underdog. A true surprise in the 2010 Tournament, the Bulldogs were a miraculous story sent to the Dance straight from the movie Hoosiers. Butler, a No. 8 seed, proved themselves not just an inspiring team, but also a true competitor when the 2010 title was determined in Duke's favor by a Bulldog 3-point attempt that missed by mere inches.
No one expected the Bulldogs to make that run in 2010, and even fewer expected Brad Stevens and his team to repeat it. But here they are. Although Butler's regular season was flagged with losses to teams like Youngstown State and Milwaukee, the Bulldogs thrived in NCAA Tournament competition. Even when Florida's trip to the Final Four looked like a lock — twice, no less — Butler came back and found a way to stay in the game and eventually advance. There's something about this team that manages to find momentum right when it counts.
---