NCAA Tournament: Wrapping up men's 'March Madness'
A few weeks ago, there were 68 teams. Now, only one - the University of Connecticut Huskies - stand alone as 2011 NCAA tournament champions. Along the way, there were thrills, upsets and outstanding individual performances, which this annual ritual never fails to supply in abundance.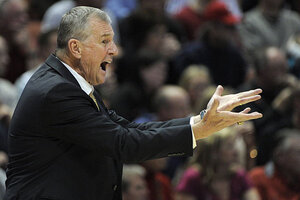 Jae C. Hong/AP
The NCAA men's tournament, or 'March Madness,' is a yearly ritual for me. I don't always have the opportunity to sneak out during lunch hour to watch the first week of Thursday and Friday afternoon matchups. But I'm always fascinated by the sheer volume of games and always manage to catch some of them somehow - whether on computer or TV. And what keeps me coming back for more each season is the ever-present possibility of an upset, sometimes several.
This year's tournament had some significant upsets – starting with Morehead State's stunning second-round victory over Louisville. Butler stunned top seed Pittsburgh in the second round, Wisconsin in the third and Florida in the Elite Eight. But how about the much-maligned, bracket-busting Virginia Commonwealth, who in succession managed to defeat Georgetown, Purdue, Florida State and Kansas enroute to the Final Four? There were many acknowledged experts who declared before the tournament began that VCU wasn't as deserving of a shot at the tournament over teams like Colorado and Virginia Tech. So much for punditry, it would seem.
---