The Masters 2011: Is Tiger Woods ever going to win again?
Tiger Woods isn't the favorite to win the Masters 2011. That honor falls to Phil Mickelson. In fact, Tiger Woods may have peaked professionally. This week's Masters golf tournament may be the most critical test of Woods' golf career.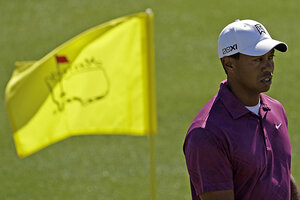 Charlie Riedel/AP
Tiger Woods isn't a favorite to win the Masters, which begins today in Augusta, Ga.
That's rare.
In fact, the Masters, which Mr. Woods has won four times, may be where the rest of the world learns what many golfing pundits have concluded: Tiger Woods has peaked.
Stick a fork in him. He's done.
Two years ago, few doubted that Tiger Woods would surpass Jack Nicklaus's record 18 wins in the four "majors" of professional golf. Woods has 14 now, but it looks like Nicklaus's record will not fall to Tiger Woods.
Woods has not won a major in the past three years. Woods has not won a single golf tournament in 17 months. This season, he's finished only once in the Top 10: at the WGC-Cadillac Championship last month he finished 10th. Woods has slid to No. 7 in the world.
The storm over his serial infidelity and divorce cost him not just his golf game but a string of corporate endorsements: Gillette, Accenture, AT&T Inc, PepsiCo, and Gatorade. Even Golf Digest magazine ended his golfing tips column in February.
---