Masters 2011: Is Tiger Woods back?
Tiger Woods charged from behind, thrilling golf fans on Sunday in the final round of the 2011 Masters. In the end, it wasn't enough to win. Was it enough to prove that Tiger Woods has returned to top form?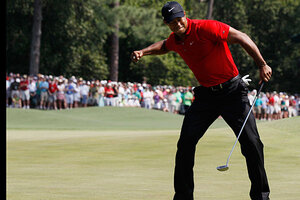 David J. Phillip/AP
On Sunday, golf fans were treated to something they hadn't seen in years: Tiger Woods playing like Tiger Woods.
Tiger Woods started the final round of the Masters, seven strokes behind the third-round leader, Rory McIlroy.
After nine holes of vintage Tiger golf at Augusta National, Woods was just one stroke behind the leader.
Tiger was back in the hunt.
Woods had four birdies and an amazing eagle on the front nine. On the par 5 eighth hole, Woods hit a 278-yard draw that rolled onto the green and stopped just 10 feet from the pin. A brilliant shot. He then sank the 10-footer for an eagle, and punctuated it with a fist pump. The crowd roared with approval!
This is the Tiger Woods who has four green jackets. This is the Tiger Woods who once caused competitors to quake. For golf fans and golf journalists, this was a moment they'd been waiting for. It had been 17 months since Woods had won any golf tournament. It had been six years since his last Masters victory.
---