Kobe Bryant slur: A window into 'last bastion of homophobia'?
Basketball star Kobe Bryant has been fined $100,000 for yelling a homophobic slur at a referee. Some observers say it points to a persistent and deep homophobia in pro sports. Others say too much is being made of a single incident.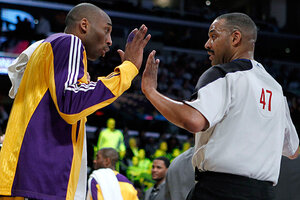 Lucy Nicholson/Reuters
When pro basketball superstar Kobe Bryant mouthed a homophobic slur on national television Tuesday, he did more than offend the gay and lesbian community, he gave a glimpse into what one expert calls "the last bastion of homophobia in this country."
Bryant was fined $100,000 by the National Basketball Association Wednesday – a decision Bryant says he will appeal – and gay-rights groups challenged him to back up his apology for the slur with actions. But the deeper question is whether this will become a "teachable moment" about the strongly antigay attitudes that pervade professional sports, says Jarred Chin of the Society for the Study of Sport in Society at Northeastern University in Boston.
"A lot of people are condemning Kobe for this, but it is language that a lot of men use in our society without knowing what it really means and how ignorant and hurtful it is," says Mr. Chin.
On a nationally televised broadcast, a frustrated Bryant clearly called the referee who gave him a foul and a technical foul a "f-----." Bryant later issued a statement saying that this outburst was a product of frustration and did not reflect his feelings toward gays.
Yet the challenge revealed insidious elements of pro sports culture, says Chin. "When you use that word ... you are calling out that person to prove that they are really a man, and to do that, they have to assert it through physical violence."
It speaks to the unique ecosystem of professional sports, which has remained largely resistant to the rising American acceptance of homosexuality, say others.
---
Follow Stories Like This
Get the Monitor stories you care about delivered to your inbox.