NBA playoffs: Celtics-Knicks rivalry returns to New York for Game 3
NBA playoffs: The Boston Celtics hold a 2-0 series lead as they face the New York Knicks tonight at Madison Square Garden in Game 3 of their NBA Eastern Conference playoff series.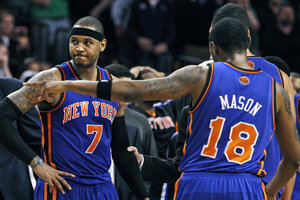 Elise Amendola/AP
In the first round of the NBA's Eastern Conference playoffs, the widely-favored Boston Celtics have won two games on their home court by a total of 5 points. Victory in the first game was sealed only by some last minute heroics by guard Ray Allen, who hit a three-point shot with just over 11 seconds left on the clock.
And they won the second by a score of 96-93, with the Knicks missing 3-point shooting specialist Chauncey Billups and, for the second half, Amar'e Stoudemire - who had put up 28 points and 11 rebounds in the first game.
Much of the workload was left to the Knicks' recent acquisition, former Denver Nuggets and Syracuse University sensation Carmelo Anthony, whose outstanding output of 42 points and 17 rebounds left many Boston fans wondering about the Celtics' defense, which for the season gave up the fewest points per game (91.13).
The Knicks also benefited from former Indiana star Jared Jeffries, who had 10 points off the bench – including two key scores in the last minute of play that nearly got the Knicks over the top.
The Celtics 2010-2011 regular-season record, at 56-26, was six games better than last season's. But the fact that they started the season 20-4 and ended it 13-11 has been another concern. Add to this that in the two previous playoff games, the Celtics' bench has only scored 20 points and are shooting 9-for-30 from the floor.
---