Portland Trail Blazers look for home cooking against Dallas Mavericks
The Portland Trail Blazers hope to fight off elimination by the Dallas Mavericks tonight in Game Six of their best-of-seven NBA Western Division playoff series at Portland's Rose Garden Arena. 7:30 p.m. Eastern Time, TNT.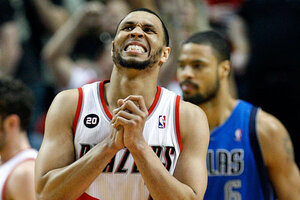 Rick Bowmer/AP
If the Portland Trail Blazers have proved anything in their Western Division playoff with the Dallas Mavericks, it's that, ala Donald Trump, they have perfected the "art of the comeback."
For instance, in Game Four, the Blazers entered the fourth quarter down by 18 points (they were behind by as many as 23). But led by former Washington Huskies star Brandon Roy's 24 points (18 of came in the fourth quarter), Portland's perseverance stunned the Mavericks. Some have called it one of the greatest comebacks in NBA playoff history. It's only the third time since the introduction of the shot clock (57 years ago), that a team has come back to win from such a large deficit.
But Dallas (up 3-2 in the series) is a team of veterans, and in bouncing back in Game Five not only put on a defensive clinic, but grabbed back 42 percent of their missed shots, which was their second best performance of the season. The Mavericks shut down Roy – allowing him only five points in his 26 minutes, and that appeared to be a key in preventing any last-minute heroics.
---