NBA playoffs: Celtics vs. Heat in clash of the NBA's Big Threes
NBA playoffs: The Boston Celtics visit the Miami Heat at the American Airlines Arena Sunday for the first game of their second-round NBA Eastern Division playoff series. Tip-off at 3:30 p.m. Eastern time.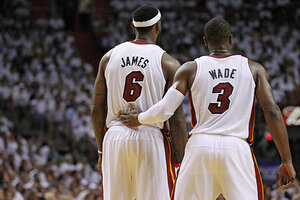 Hans Deryk/Reuters
LeBron James knows what he wants and is determined to have it. After the Boston Celtics defeated the Cleveland Cavaliers in six games in last year's NBA Eastern Division quarterfinals, it was inevitable that he'd search for a way to meet them again on playoff hardwood.
On Sunday afternoon, James will get that rematch. The Miami Heat's defeated the Philadelphia 76ers in the first round of this year's playoffs, and even though it's an early-round series, the Celtics-Heat matchup promise to be one of the most exciting of the year.
Don't be lulled into complacency from all the hype during last year's television spectacle "LeBron James: The Decision," and the overindulgent, pyrotechnic introduction of James and his fellow "Big Three" teammates Chris Bosh and Dwyane Wade in Miami last July.
---