City in ruins: L.A. reels from Lakers' capitulation in humiliating sweep
Basketball fans in Los Angeles cannot escape the depressing news: The NBA champion Lakers lost four straight to the Dallas Mavericks, and looked pretty bad doing it.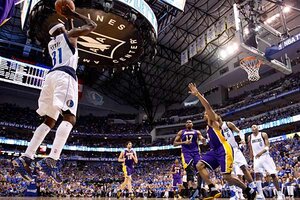 Richard W. Rodriguez/AP
This is a town filled with diehard basketball fans trying to escape the bad news, and failing.
"It's everywhere, where am I supposed to go?" says Ty Duvay, whacking copies of L.A.'s two major newspapers down on a coffee shop table here, each with photo spreads on both Page 1 and the front of the Sports section.
"Lakers lose their cool and series," says a caption on Page 1 of the Los Angeles Times. In the photo, Lakers center Andrew Bynum is being ejected from Sunday's 122-86, Game 4 loss to the Dallas Mavericks after a flagrant fourth-quarter foul on Dallas guard J.J. Barea.
"I'm crushed, depressed, disappointed, in mourning," says Mr. Duvay, quaffing a foam-covered latte with the despair of Humphrey Bogart at his bar in "Casablanca." Outside at the curb, Duvay's hearse-black SUV sports four, limp, purple-and-yellow "Go Lakers!" flags.
"Relax … DUDE … we got Osama bin Laden, the economy's coming back … get a grip!" says his friend, Todd Davis.
Pick your analysis
So what went wrong? A popular culprit is desire: The Dallas Mavericks were hungrier and more in need of a playoff vindication. The Lakers after all, were two-time defending champions while the Mavericks have only one finals appearance to show for a decade among the league's elite.
Also possible is that success has at last worn down the Lakers. Sunday was the 77th post season game since 2008 – nearly an entire, extra, 82-game regular season.
---