NBA playoffs: Grizzlies, facing Thunder tonight, are keeping things in perspective
NBA Playoffs continue Monday evening. The Memphis Grizzlies host the Oklahoma City Thunder at the Fedex Forum in Game 4 of their second-round, Western Division NBA playoff series. The game will air at 9:30 p.m. ET on TNT.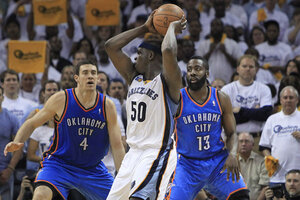 Mark Humphrey/AP
This past week, following a win in Game 3 of their playoff series with the Oklahoma City Thunder, the Memphis Grizzlies encountered an adversary whose importance far outweighed that of any opponent they've ever faced on the court.
The city of Memphis is currently struggling with the worst flooding they've experienced since 1937. In response, the Grizzlies volunteered to assist the American Red Cross in providing much needed comfort and supplies to Memphis residents displaced by the waters.
According to the team's website, the Grizzlies are arranging viewings of their games in local churches and shelters, where they will also be distributing special Grizzlies giveaway items. Regarding the effort, Greg Campbell, Grizzlies president of business operations, has said, "This is a difficult time for a lot of people in the area and the Grizzlies are committed to helping the victims of the floods in any way that we can, providing assistance to the Memphis community in which we are firmly embedded … we hope that our game viewings provide a welcome distraction from the current crisis and allow those displaced to remain part of the playoff excitement despite the circumstances."
As for FedexForum, the Grizzlies' home court, it fortunately has been largely unaffected by the water and tonight's Game 4 will be played as scheduled. Not only that, Memphis' home arena is sold out for the fifth consecutive playoff game.
---