Harmon Killebrew: an extraordinary slugger of uncommon decency
Harmon Killebrew will be remembered as one of the most prolific home-run hitters in baseball history. But to those who met him, he will be remembered more for the respect he showed the game and all connected with it.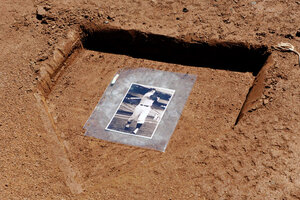 Jim Mone/AP
His out-of-sight power as a home run hitter stirred the envy of his peers, but never their resentment. His whole life on and off the baseball field was a declaration of his values not only as an athlete but as a man who had adopted a code behavior in which modesty and integrity were not musty chapter headings out of scouting primer but simply revealed who he was.
In some ways Harmon Killebrew, who died Tuesday of cancer, was an anomaly of his time. He acquired stardom and an eventual heroic stature in the 1960s and 1970s just as court rulings had liberated baseball players from bondage to their owners and opened the way to multimillion dollar salaries and the enticements of show business and television audiences.
None of this much altered the essential modesty and simple humanity that Killebrew brought with him from the farm country near Payette, Idaho, when he signed a contract with the old Washington Senators and defined him to the end.
Outwardly, he was not an emotional man, which made all the more extraordinary the response of hundreds of ballplayers, first to his announcement last week that he had accepted the nearness of death and then to the news from his home in Arizona on Tuesday.
The Minnesota Twins, the team with which he set his home-run records, hung his retired No. 3 jersey in their dugout this last weekend, and then carried it with them on their road trip to the West. It will be there in every game they play for the rest of the season. They voted to wear their throwback uniforms, the one in which Killebrew played, in each home game for the rest of the season.
Almost all of them had met him, of course. He had been a volunteer member of their coaching staff at spring training for a number of years. What they saw was not what some of them had expected. Here was a man who had struck 573 home runs, some of them by record distances beyond 500 feet, been voted into the Hall of Fame, and still considered it a privilege to walk onto a baseball field.
---