NBA playoffs: Who's the best in the West? Mavericks take on the Thunder
NBA playoffs: The Oklahoma City Thunder visit the Dallas Mavericks Tuesday night at the American Airlines Center. Game 1 of the NBA playoffs best-of-seven Western Conference finals starts at 9 p.m., Eastern time.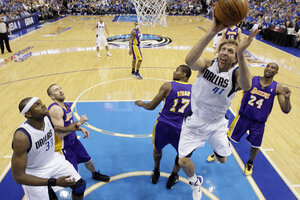 Tony Gutierrez/AP
One of the main themes of this series featuring two NBA franchises located only a couple of hundred miles apart, is experience versus youth. The Dallas Mavericks' average age is 30, and, as a team, have played a total of 119 seasons.
The Oklahoma City Thunder, on the other hand, have only one veteran who's played over ten seasons (Nazr Mohammed, with 12), and no one else who's had over seven years in the NBA.
However, if you look at the way Dallas manhandled the Los Angeles Lakers in one of the most lopsided sweeps in recent NBA history – capped by a 36-point shellacking on May 8 – they are playing like anything but old-timers. In fact, they have a collective spring in their step that they haven't shown in the playoffs for years
If it involved any team other than the Mavericks, it would be fair to say that an 8-day break in-between playoff games would be a detriment. But this team is playing at a level where it's almost impossible that a layoff will affect them very much.
In fact, it may have actually helped by giving them more time to better scout the Thunder and learn how to play to and exploit their strengths. Oklahoma City's keys to the perimeter game, Kevin Durant and Russell Westbrook, will be kept very busy by Jason Terry and Jason Kidd. And expect Kidd to have his usual boatload of assists throughout the series.
---