Nowitzki, Barea put on a clinic as the Mavericks gallop past the Thunder
Dirk Nowitzki scored 48 points, and J.J. Barea chipped in 21 from the bench as the Dallas Mavericks defeated the Oklahoma City Thunder last night, 121-112 in Game One of the NBA Western Division finals.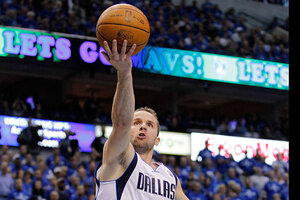 Tim Sharp/reuters
Don't ever tell J.J. Barea he can't do something. Defying odds has been his life's work.
As only the seventh player of Puerto Rican descent to play in the NBA, the Dallas Mavericks' reserve guard was originally undrafted by the NBA out of Boston's Northeastern University and in 2006 gained a spot on the Mavericks only after being scouted while participating in a summer league.
In the first game of the Western Division finals Tuesday night, Barea once again confounded convention by driving through the Oklahoma City Thunder defense like a warm knife through butter - making layup after layup with deftness reminiscent of NBA star "Pistol" Pete Maravich. Barea's 21 points off the bench were a critical factor in securing the Mavericks' 121-112 victory at the American Airlines Center. At one point in the third quarter, Barea scored 10 consecutive points, which left a puzzled Oklahoma City searching in vain for answers.
---