NBA playoffs: Thunder look to keep 'non-streak' going against Mavericks in Game 4.
NBA playoffs: The Oklahoma City Thunder haven't lost back-to-back games in the NBA playoffs this season. They host the Dallas Mavericks in the fourth game of their best-of-seven Western Conference final this evening at 9 p.m. Eastern time on ESPN.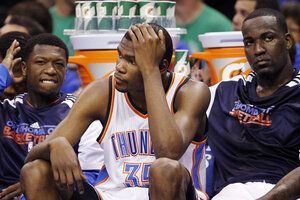 Eric Gay/AP
Oklahoma City hasn't lost two consecutive post-season games this year. Looking to maintain this precedent, the Thunder look to win on their home floor tonight against the Dallas Mavericks and quiet the critics who say they don't have it in the tank to outlast Dallas's veteran squad.
Game 4 is pivotal and will, by all accounts, determine whether Oklahoma City gives itself new life, or drops to an almost insurmountable 3-1 deficit – with the next game on Dallas' home court.
After Game 1, it looked as if Dallas had already figured out the Thunder on both sides of the ball. The Mavs' defense confused the Thunder starters and kept the bench to only 22 points.
But in Game 2, the Thunder bench, led by guard James Harden, resuscitated itself and got the Thunder back to all-square on Dallas's home floor. Then, in Game 3, Dallas narrowly managed to avoid blowing a 23-point lead, similar to the one they had before losing a close game to Portland in the first round.
Looking at Dallas's checkered history in the playoffs since their last conference championship in 2006, a previous version of the Mavs might have lost that third game. But, as they have shown repeatedly this post-season, they have both managed to come back from deficits and hold leads better than in years past.
However, after three games, the factor that has figured most prominently in the teams' victories has been their benches. Over the past week, the bench that has stepped up has gotten its team the victory.
---