NBA playoffs: Thunder snatch defeat from jaws of victory in loss to Mavericks
NBA playoffs: The Oklahoma City Thunder blew a big lead late in the game to lose to the Dallas Mavericks in Game 4 of the NBA Western Conference finals. Dallas now looks to close out OKC in the NBA playoffs, back in Texas Wednesday.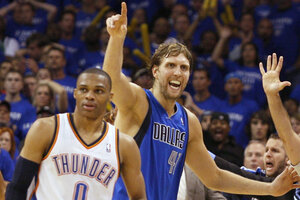 Bill Waugh/Reuters
With just under five minutes left in regulation, the ocean of royal blue-clad Oklahoma City Thunder fans could feel victory in their grasp. After a Kevin Durant 3-pointer that hit nothing but nylon, the crowd exploded and the Thunder went up by fifteen points.
Dallas's first 44 minutes of Game 4 were as mediocre as any they've endured during the playoffs. But as they've repeatedly shown this season, this is a different Mavericks team from years past, and they once again countered with a steely veteran steadiness that produced one of the most jaw-dropping comebacks in NBA history, resulting in a 112-105 overtime victory over the Thunder.
Dallas now returns home with a 3-1 series lead after winning five consecutive games on the road, as well as nine of their last ten playoff appearances, and can close out Oklahoma City with a win on Wednesday night.
In those last few minutes, there was one key factor that no Thunder player or fan could anticipate: the otherworldly inspired play of Dallas's Dirk Nowitzki. Hitting for 40 points, Nowitzki entered rarified air in NBA lore with a shooting performance that television commentator Magic Johnson said reminded him of Michael Jordan in his prime; high praise, and by no means an exaggeration.
---