Dallas Mavericks vs. Miami Heat: A tale of two cities, and of expectations
The Dallas Mavericks face the Miami Heat Tuesday night at Miami's American Airlines Arena in Game 1 of the NBA Finals. The game will be televised, starting at 9 p.m., Eastern time, on ABC.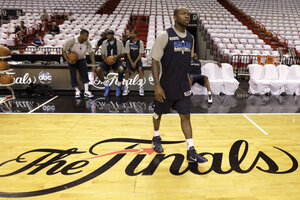 David J. Phillip/AP
The Miami Heat, for all their bluster last summer about the number of championships they were going to win and talk about assembling the "greatest team" in NBA history, have gone about this season – and postseason – in a workmanlike fashion.
They owned a 58-24 regular season record, securing the second seed in the NBA Eastern Conference, and handily dispatched the Philadelphia 76ers, Boston Celtics, and the Chicago Bulls, owners of the league's best record, in the the first three rounds of the playoffs. They are relatively young, and, rumors of an injury to Dwyane Wade's shoulder notwithstanding, are largely healthy.
On the other hand, the Dallas Mavericks, with an average player age of 33, are one of the oldest teams in the NBA, and have had to struggle through two post-season series against Portland and Oklahoma City – though along the way they completely humiliated the Los Angeles Lakers in four games in one of the most lopsided playoff sweeps in NBA history.
They have matured as a group to the point where they fight through double-digit deficits to win where previously they might not have. The Mavs, with a 57-25 regular season record, are nearly evenly matched with the Heat, though Dallas won the two regular season meetings between the two teams.
---