NBA Finals: Miami's defense KO's Mavericks in Game 1, 92-84
The Miami Heat's aggressive perimeter offense and suffocating defense collaborated to defeat the Dallas Mavericks Tuesday night, 92-84, in Game 1 of the NBA Finals.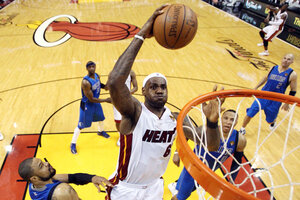 Mike Ehrmann/AP
The hard-charging Dallas Mavericks, who were used to regularly crossing the "century mark" in their Western Conference playoff games, got a taste of the tough defense that Miami has consistently used to keep some of their own playoff opponents in the East under 90, and sometimes even under 80 points per game.
For the season, the Mavericks averaged just over 100 points of offense a game. But, with Miami's fly paper-like defense, Dallas was lucky to get more than 80 Tuesday night in their 92-84 loss to the Heat in Game 1 of the NBA Finals.
Erik Spoelstra, Miami's young head coach, showed he clearly understood the dynamics of the situation when, late in the third period, he huddled with his team during a timeout, saying "This is going to be a grind."
Miami then proceeded to prove they can do the "grinding" down the stretch as well as anyone. The Heat went on to clearly demonstrate they are not the same squad who lost twice to the Mavericks during the regular season. They played Dallas tight around the rim, never allowing Dirk Nowitzki to get into any scoring rhythm in the paint – he made only 7 of 18 shots from the field, for 27 total points.
The Heat were also successful in forcing Dallas to defend their style of game – crucial if Miami is to win this series – which involved fast breaks, quick transitions and kick-outs to the perimeter. For a patient and deliberate veteran team like Dallas, this caused considerable fits.
---