LeBron James in spotlight off-court, too. Is he selling caffeine to kids?
LeBron James and his Miami Heat will face the Dallas Mavericks in Game 4 of the NBA Finals Tuesday. Off the court, however, he is being challenged by pediatricians over his new caffeine-heavy energy product, Sheets Energy Strips.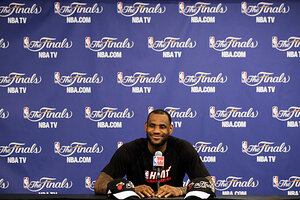 Mark Humphrey/AP
As basketball star LeBron James tries to take a step closer to the championship that has so far eluded him in Game 4 of the NBA Finals Tuesday, his off-the-court activities are drawing the ire of a number of pediatricians nationwide.
James is a cofounder of Sheets Energy Strips – small strips infused with caffeine and other chemicals that, when placed on the tongue, purportedly boost energy and performance. In one ad, James claims the strip helps him practice and play at his best.
The strips, which became available this month, are part of a worrying trend, say nutritionists. The American Academy of Pediatrics last week released a study advising that children avoid energy drinks altogether and condemning the industry for marketing them to children.
Sheets strips are targeted to compete with energy drinks, with one of James's business partners, Warren Struhl, telling NPR that they are superior to energy drinks because they don't have calories, "don't require a pit stop," and are flavored. And the ads clearly target children, critics say.
The result has been a storm of protest against a product that, according to cofounder Jesse Itzler, went through several iterations to ensure it would not result in positive drug tests for athletes.
---