NBA Finals: Mavericks, with yet another dramatic comeback, even series with Heat
Tuesday night, the Dallas Mavericks overcame a nine-point, fourth quarter deficit to defeat the Miami Heat, 86-83, in Texas. The best-of seven series is now tied at two, with Game 5 in Dallas on Thursday night (9 p.m. Eastern time, ABC).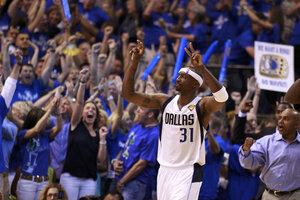 Lucy Nicholson/Reuters
Dirk Nowitzki's 21 points in Dallas's 86-83 victory over Miami Tuesday were even more remarkable when you consider that Nowitzki, sporting the glowing nose of Rudolph the Red-Nosed Reindeer, ignored illness to bring the Mavericks back to win from yet another late deficit. In almost a mirror image of Game 2, Nowitzki drove into the paint and made a layup in the final moments that proved to be the decisive score.
Also critical to Dallas's success was the momentous play of center Tyson Chandler, who had 13 points and a monster 16 rebounds (nine of those being offensive). Those rebounds were essential to bringing the Mavericks back in the fourth quarter where, at one point, Miami had a scoring drought of over five minutes.
But just as huge was the continued strong play of forward Shawn Marion, who added 16 points for Dallas. The Mavericks, all told, got five players into double figures, and along with their scoring down the stretch, pestered Miami into turning the ball over six times in the fourth period alone. During the fourth quarter, Dallas' coach Rick Carlisle deftly shifted from a man-to-man defense to a 2-3 zone, which seemed to thoroughly confuse the Heat, who managed only 5-of-15 shooting from the floor to go along with their half-dozen turnovers.
---