No Tiger Woods at US Open, but can Phil Mickelson win?
Tiger Woods is not competing in this year's US Open golf tournament, but a field of 156 golfers provides a number of story lines to consider. Phil Mickelson, who has finished second five times, is but one of many.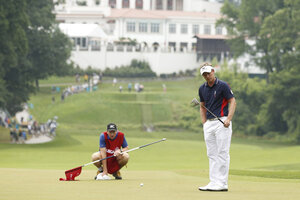 Kevin Lamarque/Reuters
The 111th US Open golf championship got underway Thursday morning at Congressional Country Club in Bethesda, Md. It's a club that was founded by politicians and businessmen who wanted to get away from Washington's halls of power.
One golfer who didn't want to be away from Congressional, four-time former champion Tiger Woods, had to withdraw from the tournament just over a week ago, due to lingering leg injuries.
Meanwhile, another competitor who has come close to winning this championship is prepared for a run at the Open title. Phil Mickelson has finished second in this event five times, most infamously at the 2006 US Open, where, despite leading the tournament on the tee at the 72nd hole, proceeded to double bogey the final hole and lose to Geoff Oglivy. And while he may be a crowd favorite, the last time he played at Congressional (1997), he finished tied for 43rd. Is he a better player today?
---