Bankruptcy protection sought by Dodgers: Will it affect ownership of the team?
Bankruptcy filing by Dodgers owner Frank McCourt throws a curveball at Major League Baseball. But sports analysts say the move only delays the inevitable: MLB will find a new owner.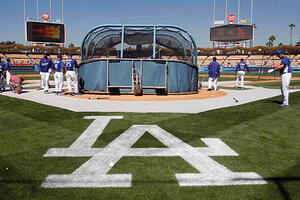 Alex Gallardo/Reuters/File
Frank McCourt, the financially-strapped owner of the Los Angeles Dodgers, has thrown Major League Baseball a curveball in the battle over who will own the team: On Monday he declared Chapter 11 bankruptcy.
The bankruptcy filing, combined with emergency funding of $150 million lined up by Mr. McCourt, means that the Dodgers will be able to meet their payroll this week – something that was in doubt. In addition, the filing gives McCourt 120 days to present his own plan to emerge from bankruptcy.
Despite the move by McCourt, some sports analysts believe it's MLB who will get the win in the ninth inning. They anticipate MLB will eventually take over the franchise and look for a new owner. And, even if that owner is from another city – say, Dallas – the analysts expect the Dodgers will remain in Chavez Ravine for the foreseeable future.
"Declaring bankruptcy will delay by a few months the inevitable," says Patrick Rishe, associate professor of economics at Webster University and an expert on sport finances. "The inevitable is MLB taking over the franchise."
Of course, McCourt views the move differently. In a press release accompanying the bankruptcy filing, McCourt says Baseball Commissioner Bud Selig "has turned his back on the Dodgers, treated us differently, and forced us to the point we find ourselves in today."
---
Follow Stories Like This
Get the Monitor stories you care about delivered to your inbox.