Roger Clemens trial: a rougher road than Barry Bonds had?
Slugger Barry Bonds was convicted on one of four perjury and obstruction charges, in connection with a probe of illegal steroid use. Ex-pitching ace Roger Clemens faces six charges – and may have a harder time avoiding conviction, experts say.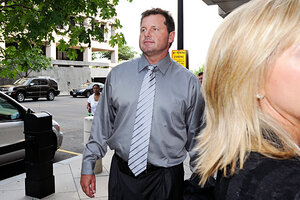 Cliff Owen/AP
Roger "The Rocket" Clemens, on trial in Washington on six counts of perjury during congressional testimony in 2008, follows Giants slugger Barry Bonds as the second baseball icon hauled into federal court this year for allegedly lying about use of steroids.
Bonds, whose trial ended in April, may still face jail time after being convicted on one count of obstructing justice for giving misleading testimony to a grand jury. But a jury could not agree to convict him on three more serious charges.
Clemens, a seven-time winner of the Cy Young Award who pitched for 23 years, may have a tougher time escaping conviction than did Bonds. As the US government continues to target sports icons for alleged use of illegal performance-enhancing substances, the Bonds case was widely seen as a training run for bigger-profile cases, such as the one against Clemens.
"The government has a much stronger case against Clemens than it had against Bonds," says Peter Keane, a law professor at Golden Gate University in San Francisco, who has followed both cases closely.
The cases are similar in many respects: Both are tied to the work of Jeff Novitzky, the federal Food and Drug Administration investigator who has been a key witness in several high-profile doping cases. Both cases involve allegations of lying – Bonds to a grand jury and Clemens to a congressional committee in 2008, when he denied steroid use despite evidence to the contrary.
---