Women's World Cup final: Can US cope with Japan's passing carousel?
For the US, the Women's World Cup final Sunday could be similar to the last two matches. Like Brazil and France, Japan could put the US on the back foot. But the US has Abby Wambach.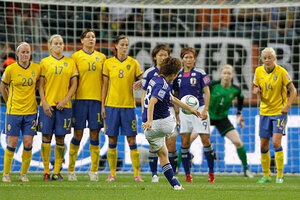 Matthias Schrader/AP
Stop us when this begins sounding familiar.
The United States women's national team is facing one of the up-and-coming teams in the 2011 Women's World Cup.
The United States women's power and speed will be pitted against their opponent's superior passing and technical ability.
The United States women are on the verge of silencing the echoes of Mia Hamm and Julie Foudy and the Class of 1999.
OK, you get the point.
First with Brazil in the quarterfinals, then with France in the semifinals, we've been here before: The US, twice world champions and three times Olympic champions, is up against a new breed of women's soccer team – one that has learned the game not by emulating the sport's traditional powers, but by seeking to revolutionize how the women's game is played.
For a week now, women's soccer has been playing king of the hill, and the US is the last of the old guard left standing.
Now, it's Japan's turn in the Women's World Cup final Sunday. If Brazil is Carnival with corner kicks and France is Rodin in soccer shorts, then Japan is the soccer world's I.M. Pei.
While the US women bear down on goal as through their tube socks are on fire, legs churning, hair flying, Japan peers out at 100 yards of green grass and sees a geometry problem to be solved.
---