NFL owners huddle in Atlanta. Hail Mary pass needed to save preseason?
A collective-bargaining deal is on the table at an NFL owners meeting in Atlanta, and while prospects look good, a deadline looms. If the deal is not approved by owners and players this week, preseason games could be lost.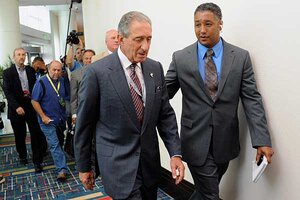 John Amis/REUTERS
In 2007, NFL team owners met in Atlanta to back out of the league's collective bargaining agreement with players. Four years later, they're back to potentially end the 127-day player lockout that began this spring, and, in a last-ditch effort, attempt to save the preseason that begins on Aug. 7.
All indications are that the owners and players are close to a 10-year deal on how to divvy up the league's $9.3 billion in ticket, television, and licensing revenues. But if a deal can't be hammered out Thursday, the first game of the preseason, the Aug. 7 Hall of Fame Game between the St. Louis Rams and Chicago Bears in Canton, Ohio, will be in jeopardy. With further delays, other preseason games could also start dropping off the schedule.
Reports suggest that the framework for the deal is in place. What remains unresolved are three lawsuits by players against the league – one over television revenue, an antitrust case, and one regarding lost benefits by players. The league is eyeing a "global settlement," that would not only establish the new collective-bargaining agreement, but also settle the lawsuits.
But with the fate the lawsuits still unsettled, and player representatives from the 32 teams still reading the fine print of the agreement, the players did not vote on the deal Wednesday, as had been expected.
---