Randy Moss retires: sullen, spectacular, and forever one of a kind
Randy Moss brought a unique mix of speed, athleticism, and receiving skill to the NFL. When he was at his best, no one in the NFL could match – much less cover – Randy Moss.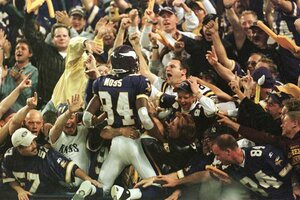 Paul Battaglia/AP/File
There was a time at the height of Randy Moss's mostly glorious career, that any pass lofted high enough in his direction would almost inevitably come down in those two hands softer than Corinthian leather.
On Monday, it seems, no new contract was lofted high enough for Moss to consider coming back for a 14th National Football League season.
Moss has decided to retire, his agent confirmed Monday.
His career was part meteoric star, part World Wresting Federation villain – the eclectic mix of a once-in-a-generation talent attenuated by repeated helpings of surliness in his public (and sometimes onfield) persona.
He was a linchpin of arguably the greatest offenses in pro football history: the 1998 Minnesota Vikings and the 2007 New England Patriots – No. 2 and No. 1, respectively, in NFL history for points scored in a season.
And yet he was also the man who, as a Viking in 2005, walked off the field before a game against the Washington Redskins was finished. The receiver who sometimes appeared to run his routes with such nonchalance that he lacked only a Big Gulp, a bag of chips, and a Barcalounger.
---