Rugby World Cup, including US, kicks off Friday
The Rugby World Cup, which takes place every four years, commences in New Zealand Friday. It is being broadcast by NBC/Universal and can also be streamed on the internet at RugbyWorldCup.com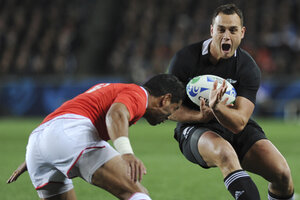 Ross Land/AP
The Rugby World Cup (RWC), commencing in New Zealand on Friday, September 9 and running until October 23, has been held every four years since 1987.
Taking place among eleven cities in the host country, the tournament consists of four "pools" of five teams each, and comprises some of the best rugby teams or "unions" from around the world – including those from the "Six Nations" tournament and the "Tri Nations" group, which features Australia, New Zealand and South Africa.
Teams vie for the Webb Ellis trophy, as the cup is also known. It's named for William Webb Ellis, the 19th century Anglican minister who is believed to have invented the game while a student at the Rugby School in England.
A highly physical game that in many ways loosely resembles American football, rugby uses an oblong, egg-shaped ball, which is a bit larger and more rounded than a typical American football. As in football, one can score points by kicking through uprights situated at the far-lengths of the field through so-called "drop goals," and players can also run the ball into the goal, called a "try" as opposed to the American football "touchdown."
However, there are also significant differences. Rugby uniforms offer little in the way of physical protection, and the game doesn't include anything resembling the number of clock stoppages that American football, with all its "plays" and "time outs," utilizes. Rugby and football teams each feature "flankers," "half-backs," "fullbacks" and "centres;" but trying to compare rugby and football "fullbacks" would be like comparing the football "huddle" to the rugby "scrum." They may appear similar, but that's where the comparison ends.
---