Baseball playoffs 2011 begin with AL divisional games Friday
Baseball playoffs: The Rays and Rangers get the 2011 MLB postseason under way Friday afternoon in Texas, followed by the Yankees and Tigers. The National League playoffs start on Saturday.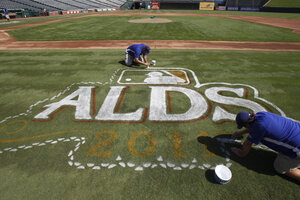 LM Otero/AP
Friday is the start of Major League Baseball's 'second season' - the playoffs.
Destiny's darlings, the Tampa Bay Rays, whose September surge pushed them into the postseason, take on the defending American League champion Texas Rangers Friday afternoon in Arlington, Texas.
A pair of left-handers will start in Game 1 for Rays and Rangers. Tampa Bay rookie pitcher Matt Moore will start for the Rays, while C.J. Wilson gets the ball for Texas. Game time is scheduled for 5:07 p.m. ET.
Friday night, the New York Yankees play host to the Detroit Tigers and their American League Cy Young Award candidate, Justin Verlander.
The Tiger right-hander had the best pitching record in the major leagues this season, 24 wins versus five losses. New York counters with the towering C.C. Sabathia, who was 19-8 this year. Game 1 of the Yankees-Tigers series is scheduled to start at 8:37 p.m. ET.
Both games will be televised by TBS.
On Saturday, the National League gets started in the afternoon while the AL continues at night.
---