Terry Francona was no longer the right fit for these Red Sox
Terry Francona will not return to the Red Sox in 2012, the team announced Friday. The reason might have less to do with Terry Francona than the Red Sox team that has changed around him.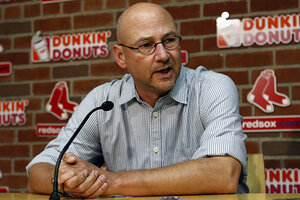 Bizuayehu Tesfaye/AP
Friday night, the Boston Red Sox formally announced what most of the sports world already knew: Terry Francona would not return as manager in 2012.
There will be those who say the expensively assembled team needed a scapegoat after losing a nine-game wildcard lead on the Tampa Bay Rays in the space of a month. And they may well be right. You can't spend like Louis XVI, come away with nothing, and not expect a little revolution. Someone had to lose their head.
Yet in the wake of a collapse that even number-crunching computers thought virtually impossible, there is something else altogether more necessary than a scapegoat at Fenway. And that could be the bigger reason Francona is not coming back.
That is leadership.
There is no doubting that Francona is a great man. And there is little doubting that Francona, in the past, has been a great manager of men. But there are doubts that Francona was a great manager of these men.
Doubts shared, not least, by Terry Francona.
In perhaps the most illustrative comment yet made from inside the Red Sox sunken ship, Francona on Thursday mentioned a team meeting he called on Sept. 6. The Sox (surprisingly) had just beaten the Toronto Blue Jays, 14-0, but Francona was seeing bad signs about the direction the team was headed.
"Teams normally... as the season progresses, there are events that make you care about each other, and this club, it didn't always happen as much as I wanted it to. And I was frustrated by that," he told reporters.
---
Follow Stories Like This
Get the Monitor stories you care about delivered to your inbox.