Tony Romo is not Deion Sanders' favorite Cowboys quarterback
Tony Romo, playing while hurt, led Dallas to back-to-back wins last month. However, last Sunday, Tony Romo and the Cowboys blew a big lead and lost to the Lions.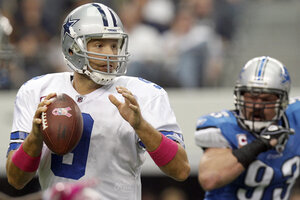 LM Otero/AP
Not many NFL fans knew who Tony Romo was when he was signed by Dallas as a rookie free agent out of Eastern Illinois in 2003.
Three years later, Drew Bledsoe was the Dallas starting quarterback in 2006, until he was replaced by Romo. The Cowboys proceeded to reach the playoffs, where they famously flamed out against the Seahawks when Romo couldn't handle the snap on a field goal attempt.
Since then, there have been two other trips to the NFL postseason with Romo at the helm, but still no Super Bowl championship for the Cowboys.
Fast forward to 2011 and Romo has Cowboy fans and former Cowboys up in arms over his roller coaster performance so far this season. Former Dallas defensive back and Hall of Famer Deion Sanders has blasted Romo for giving up a pair of interceptions for touchdowns to the Lions on Sunday.
---