Al Davis: a football maverick remembered
During his many years as the coach and chief executive of the Oakland Raiders, Al Davis had one simply stated motto: 'Just win, baby.'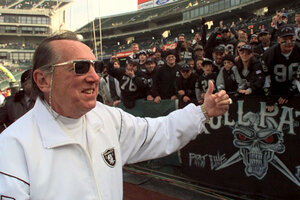 Paul Sakuma/AP/File
Brass knuckles were as right for Brooklyn-raised Al Davis, the owner of the NFL Oakland Raiders, as diamonds were for the fingers of Elizabeth Taylor.
Davis, who died Oct. 8 at his home in Oakland, never did anything the conventional way. Al was a fiercely impatient man who was also a calculated risk taker. It didn't make a difference to Davis whether he was taking on the commissioner of the National Football League or his two original partners with the Raiders.
The fact that many of his best players were picked up from rival NFL teams who got tired of explaining their off the field activities to police never bothered Al.
The name Al Davis first began to grow to billboard proportions when he was an assistant coach at The Citadel, a military school in South Carolina, except that this man who once sold hotdogs at Ebbets Field was never an assistant anything.
From there, Davis joined the coaching staff at the University of Southern California where two years of recruiting violations resulted in the Trojans football program being put on probation.
---