Penn State: College football record one win away for Joe Paterno
Penn State's head coach Joe Paterno has long been a Nittany Lion in winner's mode. With a victory over Illinois Saturday, Paterno will have the most wins in the major-college ranks.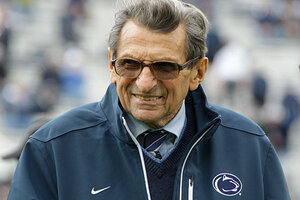 (AP Photo/Gene J. Puskar
Penn State's Joe Paterno is already three decades beyond being age-eligible for AARP membership. The university's head football coach not only can claim seniority in his profession, he's about to reach an Everest peak with more wins than any other major-college coach in history.
His next coaching victory, which could come Saturday against Illinois, will be his 409th. That would give him one more than the record he currently shares with the late Eddie Robinson, who rang up 408 career wins at Grambling State in Grambling, La.
Altogether Paterno has coached for 62 years at Penn State, first as an assistant to Rip Engle, and for the last 46 years as the head man. That tenure at the helm makes him the longest continuously serving coach at the same Division I school, a mark previously held by Amos Alonzo Stagg, who spent 44 years at the University of Chicago.
---