St. Louis Cardinals World Series win: Three questions to ponder
The St. Louis Cardinals had to claw back from series deficits to beat the Texas Rangers in Game 7 of the World Series. For Cardinals fans, the win was all the sweeter when hometown boy David Freese was named MVP.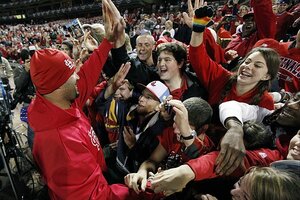 Paul Sancya/AP
The St. Louis Cardinals scored an improbable World Series victory on Friday night, beating the Texas Rangers 6-2 in Game 7. Cardinals starting pitcher Chris Carpenter gutted his way through six tough innings, and Mr. October (Midwest version) David Freese did the rest, lining a key two-run double to the base of the outfield wall in the bottom of the first.
Freese's hit erased an early Texas lead and brought the hometown crowd back to life. From there on the Cardinals gained control of the game, inning by inning and inch by inch, as the Ranger hitters went down quietly and St. Louis took advantage of walks and hit batsmen to pad their lead.
It was a championship made all the sweeter by the fact that St. Louis was ten and a half games out of a playoff spot in August and had to claw back from series deficits in both the division and National League Championship series. At one point in the World Series they were down 3-2 in games. In Game 6 they were one strike away from elimination – twice.
IN PICTURES: Fan Frenzy: World Series 2011
Perhaps no baseball team ever has walked such a tightrope for so long and grabbed a trophy at the end.
"I think the last month of the season, that's where it started," Cardinals superstar Albert Pujols said in the raucous post-game clubhouse. "Different guys were coming huge, getting big hits, and we carried that into the postseason and here we are world champions."
---