In Penn State child sex abuse case, lessons for universities far and wide
The child sex abuse scandal that has rocked Penn State is a teachable moment, say college and university officials from across the US. Fostering a culture of accountability on campus is key, they say.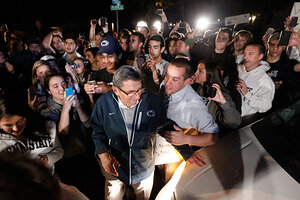 Matt Rourke/AP
The child sex abuse scandal that has rocked Penn State is, say college and university officials far from State College, Pa., not only a cautionary tale, but also a very big teachable moment.
In the wake of the firing of football coach Joe Paterno and the exit of several Penn State officials, including its president, college administrators elsewhere are emphasizing to their staffs the importance of reporting any sex abuse crimes – especially those involving children – to the police. Some college presidents say the tragedy is a reminder that they must go beyond the letter of the law, particularly at institutions that try to teach moral values and principles to students.
Others say the lesson is about the need to foster an atmosphere on campus in which individuals are not afraid of reporting crimes, even if they are committed by famous faculty.
Arizona State University President Michael Crow, for one, says that the first news reports Monday about alleged child sexual abuse involving a former Penn State defensive coach, Jerry Sandusky, prompted him to immediately remind senior staff of their obligation to report all crimes to police.
"We reiterated our view that there is not going to be any culture of protectiveness in our institutions," says Mr. Crow. "Everyone is subject to the same rules, everyone."
Leaders at other institutions say they will do the same in the near future.
"I have already set up a discussion with our senior administrators to talk about when we are confronted with a situation," says Ken Ruscio, president of Washington and Lee University in Lexington, Va. "We will want to look at the legal ramifications and reputation risk," he says. "But in the end it comes down to what to do when we are faced with an ethical question."
At Penn State, it's not clear how senior officials at the university saw their ethical duties. A grand jury has charged Mr. Sandusky with sex abuse or sexual assault of eight young boys, at least one as young as 10, over a 15-year period that includes some time while he was still a coach.
---