Penn State riot: If university can't fire Joe Paterno, is something wrong?
Is the Penn State riot an acceptable response to Joe Paterno being fired? He was much more than a football coach, but some say the violent reaction points to a deeper problem for colleges.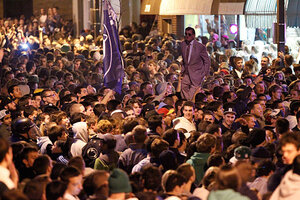 Matt Rourke/AP
Images of the Penn State riot Wednesday cast a new light on an old question for collegiate sports: Do they have too much sway at many universities?
To be sure, the situation unfolding at Penn State is unusual, if not unique, both for the appalling nature of the allegations and the stature of the coach involved. Joe Paterno was no typical college football coach.
More than any other man, Mr. Paterno is Penn State – the man who brought the institution national recognition, the man who built a football program based on "honor" for 46 years, the winningest football coach in Division I history.
And he had already announced his retirement effective at the end of the season. To students, such an abrupt firing was no way to treat a legend.
But to many outsiders, such an outpouring of violence was no way to react. Television footage showed mobs overturning a television news van, smashing car windows and newspaper boxes, and aggressively tussling with police in riot gear.
The Penn State riot represents the "warped moral atmosphere" that is created when "universities look to college football as the financial engine of campus that bends the will of the campus," says Dave Zirin, sports columnist for The Nation magazine.
Certainly, top college football programs have enormous influence at universities.
College football is a $3 billion industry, and Penn State at the top in both earnings and profit for the Big Ten Conference. According to Forbes, Penn State generated $70.2 million in football revenue and $50,4 million in profit for the 2009 season. The athletic department pocketed more than half that, $26.4 million.
Moreover, big-time college athletics play into tribalism.
They are "almost like a cult" in how they strike awe among school officials and students, says Frank Splitt, a former Northwestern University professor who has written extensively on corruption in collegiate sports.
Sports forms a "glue" that binds students and alumni to their alma maters in powerful and visceral ways, he adds. "It gives them something that they can all adhere to."
---