At its last 2011 home football game, Penn State remembers child sex abuse victims
A candlelight vigil was held on the Penn State campus Friday night in support of the victims of child sex abuse, drawing thousands of students and alumni in advance of today's final home game for the Nittany Lions.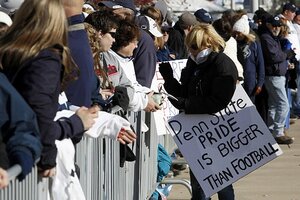 Alex Brandon/AP
(UPDATE: The Associated Press reports that capping the worst week in school history, No. 12 Penn State couldn't overcome a 17-point deficit and was stopped short on a 4th-and-1 late in a 17-14 loss Saturday to No. 19 Nebraska.)
Unrest at Penn State University over the firing of a collegiate-football icon appears to have yielded to a concern for the victims of alleged pedophile and former Penn State defensive coordinator Jerry Sandusky, whose arrest Nov. 5 also toppled Penn State University's legendary coach Joe Paterno.
A candlelight vigil on campus Friday night in support of the victims, drawing thousands of students and alumni, and the brisk sale of blue T-shirts in advance of today's final home game for the Nittany Lions were aimed at offsetting images earlier in the week of unruly crowds torching a TV van and toppling street lamps in State College, Pa., in protest of Mr. Paterno's dismissal.
Yet even as students strove to express their collective support for the victims, others were emphasizing the critical role individuals play in promptly reporting instances of sex abuse with children.
During halftime at Friday's "Carrier Classic" collegiate basketball game aboard the aircraft carrier USS Carl Vinson at the US Navy's base at Coronado Island in San Diego Bay, President Obama noted that "it's a good time for the entire country to do some soul-searching…. You can't just rely on bureaucracy and systems in these kinds of situations. People have to step forward … we don't leave it to somebody else to take responsibility."
Even then, however, the system can break down.
The grand jury report that led to Mr. Sandusky's indictment, as well as the arrest of two university officials for failing to report to police what they had been told about one of the incidents, describes the testimony of one victim whose mother did report the incident to university police.
The encounter occurred in 1998, according to the report. At the time, the county district attorney declined to press criminal charges, the report said, while one of two State College detectives investigating the incident essentially issued a warning to Sandusky.
---