Tim Tebow and Christianity: Is it the secret of his success?
Tim Tebow has been an unexpected success as a pro quarterback. Strong faith might be helping Tim Tebow deal with adversity, say some observers – but that could be a two-edged sword.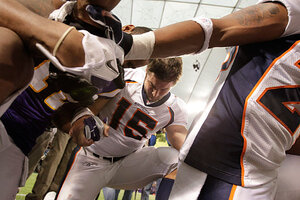 Genevieve Ross/AP
In this football season, Denver Broncos quarterback Tim Tebow has proven to be a magnet for two things: victories and criticism. Does the pairing amount to injustice? Or a match made in heaven?
Since Tebow took the helm as starting QB in October, the Broncos have gone 6-1. Once among the dregs of the league at 1-4, they are now 7-5 and in a playoff spot. In what is becoming a weekly spectacle, Tebow rallied the Broncos in the fourth quarter Sunday to beat the Minnesota Vikings, 35-32.
But with Tebow, it's never just about winning (or losing). It's about his stiff throwing motion, it's about the unorthodox college-style offense the Broncos have implemented just for him, and above all, it is about his faith – the regular references to Jesus Christ, the pre-game prayers, the squeaky-clean lifestyle that includes virginity until marriage.
Religion and football have long coexisted without too much comment – from perfunctory praise in sideline interviews to postgame prayer huddles. But Tebow has gone further, making his career a sermon for his Lord.
In some ways, Tebow can use the Christian narrative of faith tested by trial not only to cope with adversity, but to thrive on it. But by wearing his convictions so openly, Tebow also risks making his career a referendum on his religious beliefs.
Either way, observers say they can't remember a young player who drew so much scrutiny and evoked such strong feelings, both pro and con.
---