NHL realignment destined to fuel rivalries - and the fan base
When the Atlanta Thrashers became the Winnipeg Jets over the summer, the move precipitated the biggest NHL realignment in 15 years. The owners' vote Monday aims for a fan-friendly league that emphasizes hockey's old rivalries.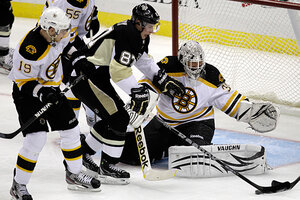 Gene J. Puskar/AP
When the Atlanta Thrashers ignominiously left the Deep South this summer to take up residency in chilly Winnipeg, Manitoba, players and owners knew the NHL's two-conference, six-division layout would need some tweaks.
Instead, the owners, in a 26-to-4 vote at the board of governors meeting at Pebble Beach, Calif., broke a carton of eggs and made a new omelet, leaving a few teams – especially the two Florida franchises – a bit sore, but securing the wishes of a contingent of fans, players, and commentators whom ex-coach Mike Keenan called the "rivalry geeks."
The radical NHL realignment into four regional conferences – no more will Nashville Predators fly regularly to Los Angeles for interconference games – is part of the post-1994 lockout revamp that is more fan-friendly but that often sets grizzled veterans of the game to grumbling. Post-lockout rule changes – such as resolving tied games with shootouts, bolstering the size of the offensive zones, and limiting goalie movement – have all helped to grow the once-anemic NHL fan base and to allow the league to sign a major 10-year deal with NBC Sports for broadcasting rights.
---