Tim Tebow: Hero? Role model? Overbearing evangelist? All of the above.
Tim Tebow is many things to many people, in part because he has sparked a national conversation about religion's place in American life. Call it the Tim Tebow culture wars.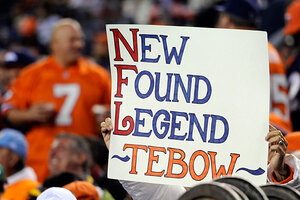 Jack Dempsey/AP
Seemingly the only thing about Denver Broncos quarterback Tim Tebow that most Americans can agree upon is that he is much more than just another pro football player.
Even in football circles, Tebow is a curiosity – either a passer of extremely limited skill enjoying a run of extraordinary fortune or an outlier whose freakish ability to run the ball makes him a new species of quarterback.
Yet it isn't the Denver Broncos' spread-option revolution that makes Tebow a national lightning rod. It is a religious style so bold, and a character so distinctive, that both are impossible to ignore.
People of faith see something much bigger than football, as Tebow defines what it means to follow Jesus in a jaded and uncertain modern world.
People tired of pro sports' descent toward criminal behavior, vanity, and self-indulgence see in Tebow an honorable new model for manhood.
And people affronted by public displays of religious fervor see in Tebow a showy type of faith that offends and even perverts scripture.
Tebow is many things to many people, with fans and critics making meaning from his young career faster than concessionaires can cook Bronco Brats. But clearly, his unexpected success as the Broncos starting quarterback – guiding the team into playoff position after a 1-4 start – is serving as a touchstone for the intense and often contentious debate over where religion fits in contemporary America.
"The conversation about Tim Tebow is a culture wars kind of dynamic that transcends sports," says Tom Krattenmaker, author of "Onward Christian Athletes: Turning Ballparks into Pulpits and Players into Preachers." "Tim Tebow is one of the major venues for this ongoing argument about Christianity in our public life."
---