Penn State attempts to move past scandal by hiring Patriots' Bill O'Brien, reports say
Penn State is reportedly in contract talks with New England's offensive coordinator Bill O'Brien. But Penn State football alumni aren't too happy with the process to replace Joe Paterno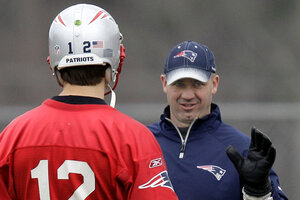 Stephan Savoia/AP/File
Bill O'Brien, the relatively unknown offensive coordinator of the NFL's New England Patriots, has reported been tapped to replace the fired Joe Paterno as head football coach at Penn State University.
Paterno, who had spent nearly 50 years coaching at State College, was let go in the wake of the Jerry Sandusky child sex abuse scandal last fall.
O'Brien, like Paterno, is a Brown University alumnus who coached at other Football Bowl Subdivision schools, such as Maryland, Georgia Tech, and Duke, before being hired as a coaching assistant by Patriots head coach Bill Belichick in 2007.
Friday morning, multiple reports had O'Brien negotiating contract details with Penn State's acting athletic director David Joyner.
But the reported selection of O'Brien to take over the Penn State program was not sitting well with some former Nittany Lion players.
---