NFL playoffs: Did New Orleans Saints end the 'defense wins championships' era?
NFL playoffs are led by teams with dreadful defenses, like the New Orleans Saints and Detroit Lions. It's a sign that more teams are turning to the Indianapolis Colts model.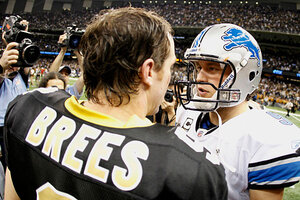 Sean Gardner/REUTERS
In the very year that the Indianapolis Colts imploded, much of the league, it seems, has decided they were right all along.
It has been coming on for a while now, but the Colts way of building a Super Bowl contender around the extraordinary abilities of quarterback Peyton Manning has come to full bloom across the National Football League this year. And rarely has it been more evident than in Saturday night's Wild Card matchup between the New Orleans Saints and the Detroit Lions.
The Lions, for their part, have essentially built themselves as a Colts clone: high-octane offense centered on a franchise quarterback, poor defense whose only recourse is an ability to pressure the quarterback.
But even the Saints are merely a variation on the type. They, too, are built on a franchise quarterback – surrounding him with an array of weapons that would make the Pentagon blush. Their defense, too, is a paper tiger – an assemblage of talent that would have been mocked in the "defense wins championships" era of Doomsday Defenses, Steel Curtains, and Purple People Eaters.
That era is not yet wholly gone, but it is unrecognizable from even 10 years ago.
---