How much do you know about Tim Tebow? A quiz
In a January 2012 ESPN poll, Denver Broncos quarterback Tim Tebow was the most popular pro athlete in America. Now he's struggling to make the New England Patriots' 53-man roster. How much do you really know about Tim Tebow? Take our quiz to see if you are a true Tebow-maniac.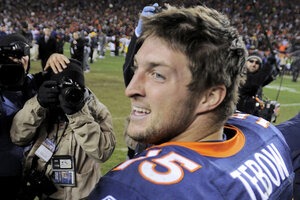 Mark Leffingwell/Reuters
Question 1 of 18
1.

Tim Tebow appeared in an antiabortion commercial that aired during the Super Bowl for what group?
Gospel of Life Ministries

Focus on the Family

National Right to Life Foundation

American Life League