Broncos-Patriots one of four intriguing NFL playoff games this weekend
Tim Tebow takes his act to New England, Drew Brees takes on the 49ers, the Texans travel to Baltimore, and the Packers host the Giants during this NFL divisional playoff weekend.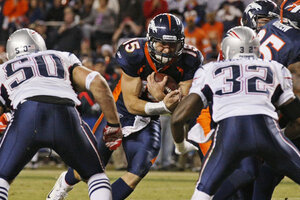 Rick Wilking/REUTERS
The Tim Tebow effect aside, it's a weekend made for pro football fans and their Barcaloungers with two NFL playoff games each on Saturday and Sunday.
We kick things off late Saturday afternoon with the New Orleans Saints in San Francisco to take on the 49ers (4:30 p.m. ET on Fox). Rookie head coach and former NFL quarterback Jim Harbaugh has the 'Niners back where they used to be every year in the 1980s and 90s - in the playoffs.
But instead of just offensive firepower, San Francisco has played stout defense in winning the NFC West, allowing just over 14 points per game. The defense is led by linebackers Patrick Willis and NaVorro Bowman. It features linemen Justin Smith and Aldon Smith, who have combined for 21.5 sacks this season.
---