AFC Championship fulcrum: Ravens offense vs. Patriots defense
New England's offense and Baltimore's defense are well known. But their opposite numbers could actually decide who goes to the Super Bowl.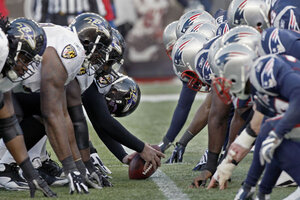 Winslow Townson/AP/File
Ray Lewis, Ed Reed, and Terrell Suggs versus Tom Brady, Wes Welker, and Rob Gronkowski.
Conventional wisdom says those are the key match ups. Those six men will lead their units - Ravens defense and Patriots offense, respectively - in the AFC Championship game this Sunday (3 p.m. ET on CBS) in New England.
To stop the Patriotis offense, Ravens linebacker Ray Lewis (the only team member with a SuperBowl XXXV ring) must stop Brady from completing passes to Welker and Gronkowski across the middle. Safety Ed Reed's omnipresence is a key reason no team has more than one touchdown pass against the Ravens this season. And outside linebacker Terrell Suggs must move Brady off his in the pocket for Baltimore to have a chance.
---