Biggest Super Bowl shocker: a tight end could determine who wins
In 50 years, the position of tight end has been revolutionized – to the point that the health of Rob Gronkowski could be central to the New England Patriots' chances to win the Super Bowl.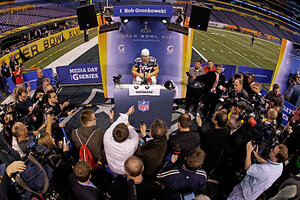 Mark Humphrey/AP
This Super Bowl Sunday, the most important factor determining whether the New England Patriots or New York Giants walk away with the Lombardi trophy might not be a quarterback, a coach, or a defense. It might be the health of a tight end.
New England Patriots tight end Rob Gronkowski, who scored the most touchdowns in the NFL this season, is day to day with a left ankle injury, and it probably won't be clear until Sunday if he can play. If he can't, the Patriots quarterback Tom Brady loses his biggest offensive weapon, and the Patriots – though still dangerous – clearly become easier to defend.
That a tight end could be a Super Bowl team's second most important player is a measure of how much the position has changed in the past 50 years. Long the bellwether of football evolution, tight ends are the Swiss Army knives of an offense. First used primarily as extra linemen, they have now become receivers in their own right, combining a lineman's size, a running back's speed, and hands as soft as the best wide receivers.
---