Pro Football Hall of Fame: How are players nominated?
The Pro Football Hall of Fame will announce its 2012 class on Saturday, the day before Super Bowl XLVI. We take a look at the nomination process.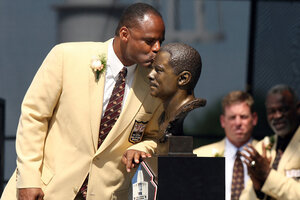 Matt Sullivan/REUTERS/File
Who deserves to get into the Pro Football Hall of Fame? We've made our picks (to see them, click below). Whether they match the official annual selections, which are announced each year the day before the Super Bowl, remains to be seen.
But before getting to the Monitor's choices, some background and comments are in order.
First, an interesting fact: Anyone may nominate a player, coach, or contributor simply by writing to the hall in Canton, Ohio. It says so right on the shrine's website. The only stipulation is that players and coaches be retired for at least five years.
Submitting a nomination, of course, only begins the winnowing process handled by a 44-member Selection Committee composed mostly of football writers from each NFL city. These guys (they're all men) are known to local readers, but they are no-names nationally. You won't find big-name sportscasters like Joe Buck and Al Michaels among them.
This committee does its work quietly and the selections are generally met with far less buzz than in baseball. Why? Partly because baseball, with its many player statistics, lends itself far better to hot-stove debates about the game's immortals. In football, how's one to gauge an offensive lineman?
---